Guns, guns and more guns: Hits from the 2014 SHOT Show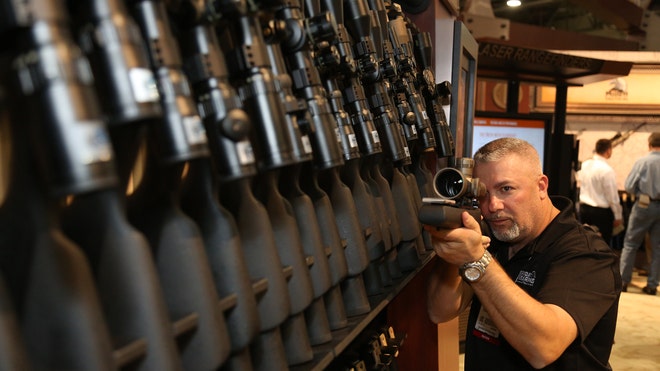 From smartphone-sized guns through to naked guns that let you see their action in action, the floors of the world's largest shooting show were chock full of interesting gear.
More than 60,000 convened in Las Vegas for the 36th Shooting, Hunting and Outdoor Trade Show (SHOT Show), where more than 1,600 exhibitors are showcasing their latest and greatest. It's theworld's largest gun show, and there was something for everyone there.
Companies like Remington took inspiration from classics, even those nearly a century old, and reinvented them for today's shooter. Other companies brought innovations aimed at law enforcement and the military, such as Sig Sauer's new family of pistols.
Here are some crowd favorites that scored high marks.
Smartphone-Sized Guns
In the market for a smart weapon fit for concealed carry? SHOT Show 2014 introduced lots of new options. Small was clearly big this year, with many companies pushing their "backup"-sized products.
Two microguns that led the pack were the Glock 42 and the Beretta Pico. Both are high quality single-stack 6+1 off-duty and all very lightweight. At only 11.5 ounces empty and super thin — it's less than an inch wide in places — the Berretta Pico is a great choice for when you're jogging or sprinting.
By week's end, the slightly heavier Glock 42 (12.35 ounces empty) still seemed to be the crowd favorite in the smartphone-sized gun category.
SIG Sauer's New Family for Operators
SIG Sauer unveiled its new P320 full-size service pistol.
Based off the company's NRA Golden Bull's Eye Award, very popular P250, this model takes the P250's characteristics and combines them with smart design for the military and law enforcement user.
The P320 pistol family includes two sizes and three different calibers.
The smaller model weighs just under 26 ounces with a 3.9-inch barrel length and 7.2-inch overall length while the larger weighs just over 29 ounces with a standard 4.7-inch barrel length and 8-inch overall length.
Fed by dual stack box magazines, they also have striker safety, disconnect safety, and a three-point disassembly safety.
Four additional safety features can also be added as options including an ambidextrous manual safety and a loaded chamber indicator. They have an under barrel M1913 Picatinny rail for attaching accessories and can be available with a threaded barrel for those who require a suppressor.
A .45 ACP model will be available later in the year.
Remington's Retro Chic
In a welcome surprise to many, Remington reintroduced the Model 51 — the R51.
This model had not manufactured since the 1930s — talk about bringing back a classic … with a twist. Remington took this nearly 100-year-old model and revamped it as a concealed-carry special.
A single-stack 9mm, it has a 7+1 capacity and it super smooth for quick draws.
For those looking for some extra oomph, the R51 can take +P ammunition.
Custom Wheel Gun: Smith & Wesson M686
Smith & Wesson's Performance Center, the company's custom firearm shop, drew some crowds curious about their new wheel gun.
The Smith & Wesson 686 PLUS takes a past legend and updated it for today's user.
The seven-shot, 2.5-inch barrel .357 Magnum has the Smith & Wesson classic lines and based on the enthusiasm it was generating on the SHOT Show floor, looks like a contender for popular concealed carry revolvers this year.
Retailing for about one thousand dollars, it has a slimmer grip adding to its appeal for some shooters.
No Conceal, All Reveal
Ever wonder what it looks like inside the gun while it is shooting?
The Taurus View .38 Special revolver based on the Model 85 was a hit for revealing, rather than concealing. It has a translucent side plate – meaning you get to see inside the gun and watch the mechanics at work.
Weighing in at about 9-ounces unloaded, the five-round revolver has 1.41-inch barrel. The frame is aluminum, the interior barrel is steel and the cylinder and outer barrel are titanium. It will be available for about $600.
http://www.precisionammunition.com/wp-content/uploads/2014/01/opening-day-shot-show1.jpg
371
660
Matt Campbell
http://www.precisionammunition.com/wp-content/uploads/2018/01/PrecisionAmmo_logo_1.png
Matt Campbell
2014-01-21 16:04:48
2015-01-20 10:56:55
Guns, guns and more guns: Hits from the 2014 SHOT Show